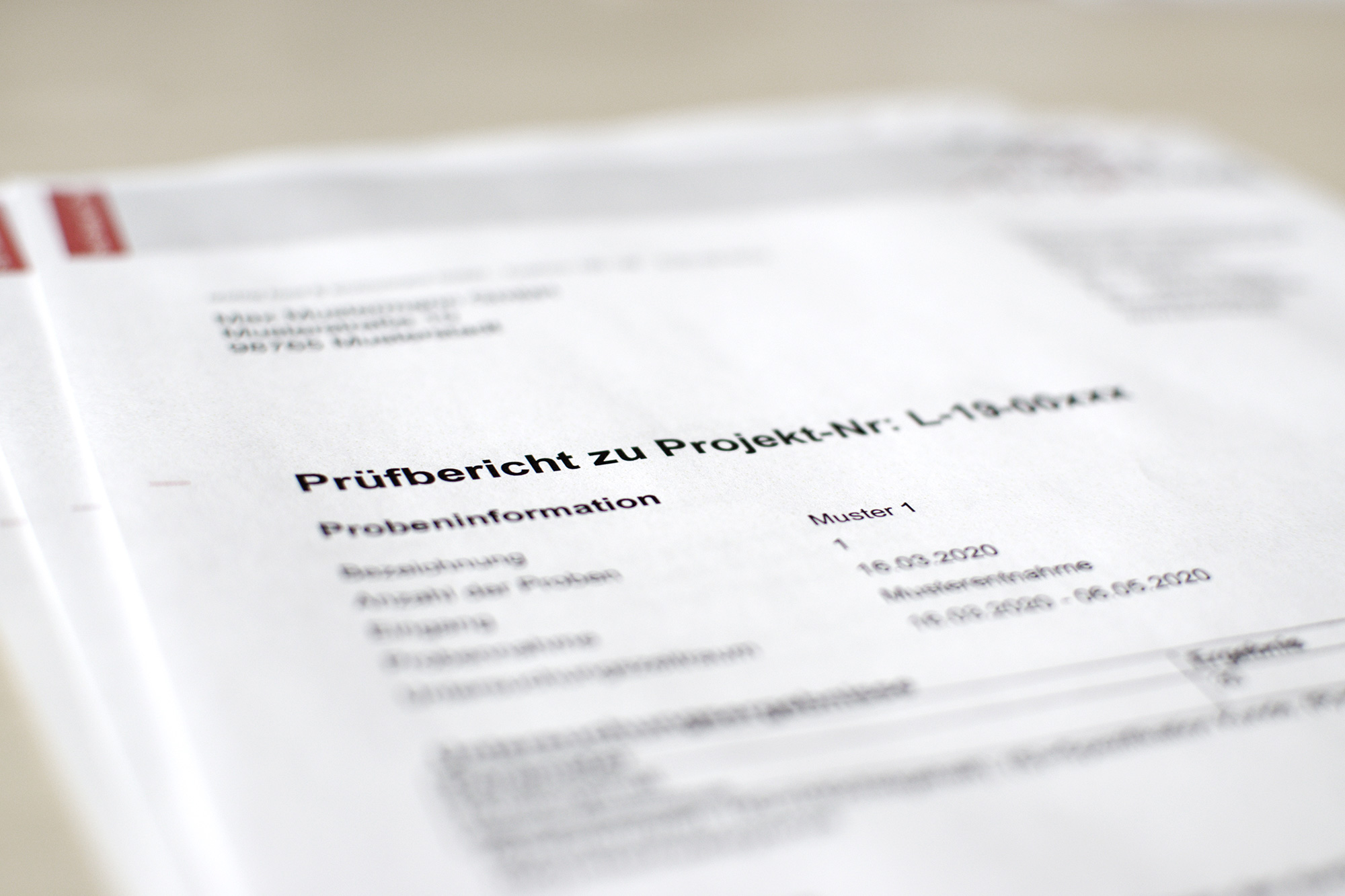 FOR MAXIMUM PRODUCT QUALITY AND FULL CUSTOMER CONFIDENCE
Testing contracts
Do you want to hire us to conduct an analysis? We will gladly help.
Contact us
Please use our form for any queries. Just download it, fill it out and send it. Alternatively, you can also use our online application.
Arotop-Untersuchungsauftrag.pdf
AROTOP OFFERS YOU A COMPREHENSIVE SPECTRUM OF ANALYSIS FOR MAXIMUM SAFETY.
Have you any specific questions about chemical composition, microbiological impact, concentration of desirable and undesirable ingredients or sensory qualities of your own or third party food products? Our food chemists, microbiologists and experts will be glad to help.

In our five specialist divisions we carry out significant and precise analyses. The accredited area covers physical-chemical, chemical, microbiological and sensory tests of food and animal feed, as well as physical, physical-chemical and chemical tests of potable water, water and liquid waste. The sample taking of potable water and liquid waste is also accredited.

In addition to pure data you get from us a comprehensible assessment and recommended procedures. This will allow you to make confident and fact-based decisions – for maximum safety!
In the area of chemical analysis, we support you with food and animal feed tests. Our tests provide you with reliable information about the origin and authenticity of food, particularly spices. We detect traces of allergens, e.g. gluten and lactose and the composition of nutritional values in accordance with the Food Information Regulation (Lebensmittelinformationsverordnung – LMIV) and the analytical components of your submitted sample.
Full analyses of meat and meat products and spice analysis with a variety of special methods pursuant to ASU, ISO and Asta are also included in our services.
Would you like to detect the content of preservatives or sweeteners in perishable foods? Do you need transparency about the spectrum of fatty acids and vitamin content of edible oils or to detect mycotoxins and Sudan dyes in spice mixtures? We help you along.
In addition to origin and authenticity analysis with the ¹H-NMR process and modern techniques like ELISA, we rely on traditional procedures like distillation, titration, photometry, potentiometry or gravimetry as well as modern chromatography procedures such as LC-MS/MS and GC-MS or ICP-MS.
Services at a glance:
Origin and authenticity analyses using ¹H-NMR for spices and fruit juice as well as other foods
Testing the absence of allergens like gluten and lactose
Nutritional value analyses in accordance with the Food Information Regulation
Full analyses of meat and meat products
Spice analysis with a variety of special methods pursuant to ASU, ISO and Asta
Pet food analyses (e.g. analytical components)
Checking for undesirable residues and contaminants like heavy metals and mycotoxins
Detecting vitamins, major and trace elements
Testing for preservatives, sweeteners and other additives
We will be happy to answer your queries and advise you on all test possibilities.
If microbiological contamination is suspected in a food area, we quickly and reliably create clarity about this. If your sample contains germs, we establish the specific micro-organism and determine the number of germs. Do you need a salmonella test within 24 hours? To check the use by date of products or have the hygiene level of your factory inspected? Arotop is your reliable partner here.
For our analyses, depending on requirements we use traditional cultural methods and state of the art technology like real-time PCR. We test the entire shopping basket of the food industry according to statutory requirements such as Regulation (EC) No. 2073/2005 on Microbiological Criteria for Food. Our bases for assessment also include benchmarks and warning levels of the DGHM as well as product specifications. The analysis results are assessed by our experts and then discussed with you.
We can also support you with sample taking by trained sample takers and testing potable water pursuant to the Drinking Water Ordinance etc. for legionnaire's disease, E. coli or pseudomonas eruginosa.
Services at a glance:
Tests in accordance with the legal requirements under Regulations (EC) No. 2073/2005
A check of the microbiological status of food and compliance with benchmarks and warning levels in accordance with DGHM
Substantiation and differentiation of pathogenic drugs like salmonella, campylobacter or listeria.
Monitoring of factory hygiene measures
Testing of potable water pursuant to the Drinking Water Ordinance
Sample taking by trained sample takers
Animal screening by PCR on more than 20 animals
Evidence of genetically modified organisms
Evidence of the celeriac allergen
We will be happy to answer your queries and advise you about all test possibilities and services.
Our trained sensory researchers will help you understand your products and those of your competitors. With their sensory expertise they will describe the slightest individual perceptions and provide a detailed break down of complex product profiles.
We stand by you not only in development but also in crisis cases. We will provide an all-round sensory panel to you for rapid analysis. Customer-specific exclusive panels round off our portfolio.
Our sensory technology department is DIN EN ISO 17025 accredited. The basic training of our employees pursuant to DIN EN ISO 8586 as well as consistent training in multifaceted DIN-EN-ISO standards enable us to carry out valid comparison tests. Our two sensor technology labs with a total of 12 testing places are equipped according to DIN EN ISO 8589 standards and offer an ideal environment for your tests – including under red lights.
Services at a glance:
Trained expert panels for sensory testing of food and consumer goods.
DIN-EN-ISO methods like profiling to generate spider webs or comparison tests like triangle tests
All-round or exclusive panels
We will be happy to answer your queries and advise you on all test possibilities.
We can neither see, smell, taste or feel many contaminants in water. But they are there. Unfortunately, often more concentrated than is acceptable for people in your area of responsibility. If you wish to create clarity as to whether and to what extent there is contamination, we can help you out.
In our accredited laboratory we provide analysis based on current regulations, guidelines and laws.
We also test to establish the abrasiveness of toothpaste, for example, for manufacturers of dental care products.
Services at a glance:
Metal analysis in liquid waste using ICP-MS and ICO-OES
Microwave-induced pressure digestion
Ion-chromatography (fluoride, nitrate, sulphates, chloride)
Adsorbable organic halogen (AOX)
Wet chemical procedure for CSB, BSB5, ammonium nitrogen, nitrite, chromium (VI)
Acid-base capacity
Carbonate hardness
Redox potential, phenol index
Solid materials and suspended solids
Nitrogen and carbon detection (TNb, TOC, DOC)
Petroleum-derived hydrocarbons using gas chromatography (H53)
Luminous bacteria test
RDA and REA (appointments on request)
Chloride in concrete (on request)
Sample taking for TW, liquid waste and cooling towers (for private and commercial customers)
We will be happy to answer your queries and advise you on all test possibilities.

Analysis – order process


ACCREDITATIONS
arotop food & environment GmbH has been ISO/IEC 17025 accredited since 1995. Hence, we offer you the best possible safety accepted worldwide for products tested by us.
The accredited area covers physical-chemical, chemical, microbiological and sensory tests of food as well as physical, physical-chemical and chemical tests of potable water, water and liquid waste. Sample taking of potable water, water, liquid waste and coolants is also accredited.

With this accreditation we guarantee you:
• Objectivity and independence (third party)
• international validity (ILAC)
• Conformity assessment for reliability
• Comparability of results
• Reproducibility of results
• A high technical standard
• Competency of specialist staff
• Standard-compliant analysis and measuring methods
QUALITY SEAL
We introduced the arotop quality seal in 2012. Today consumers perceive it as a significant quality characteristic. Products that bear the arotop quality seal fulfil requirements over and above statutory standards. To ensure this we develop with your individual test criteria against which you can regularly measure yourself.

The arotop quality seal stands for:
Regular inspections by an independent, accredited testing institute
Expert assessments by registered food chemists and officially appointed and attested experts.
Declaration testing
Sensory tests in the accredited area
Microbiological and chemical analyses
Inspection of declared ingredients
Testing for the absence of contaminants and residues
Trail tests
The quality seal